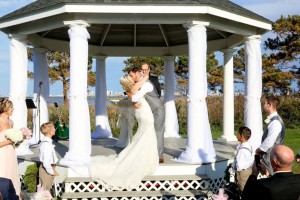 Voted the Best Wedding Venue of Worcester County for 2014 & 2015, Lighthouse Sound makes a stunning location for any special event. These past few months have been spent meeting with brides, scheduling tastings, comparing Pinterest photos of flowers and other décor, all in anticipation for the big day.  As Bridal Show and Wedding season begin, we wanted to lend  future Brides and Grooms some helpful hints as to why, Lighthouse Sound is the perfect venue location.
1- Located just one mile outside of Ocean City, the venue offers a coastal feel, water views and scenic surroundings.  The Gazebo area makes the perfect spot for an outdoor ceremony with the Assawoman Bay surrounding you. The elegance of the Gazebo will highlight any décor from drapery, flowers, lanterns and tulle. After the ceremony is complete, we always have two golf carts waiting; one for the Bride and Groom – the other for the photographer. This will give you a chance to drive around our 18 hole golf course and capture intimate wedding portraits at many of our popular and scenic overlooks.
Photography by: Andrew Nock Photography
2- There is NO venue fee. I repeat, NO venue fee. Compared to many venues in the area, Lighthouse Sound does not have a venue fee. Which means… you are only responsible for price per guest!
Photography by: Andrew Nock Photography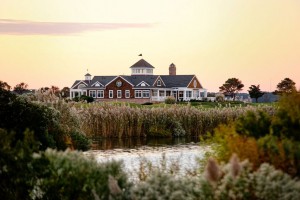 3- We are a full service restaurant which gives the future Mr.  & Mrs. a chance to sample their menu selections. Our fully trained kitchen staff and Executive Chef will go above and beyond to assure every guest enjoys delicious Hors d' Oeuvres & Entrees.
Photography by: Caroline Logan Photography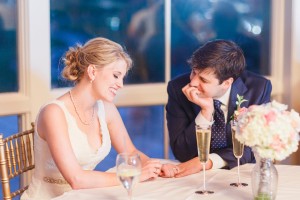 4- Our Event Coordinator, Melissa, will be with you every step of the way.  It is her goal is to make the process as enjoyable and easy as possible for the Bride and Groom. From helping with the floor plan, setting up décor, sticking to the timeline and even assisting through the Ceremony – Melissa promises to follow through with every planned detail.
Photography by: Caroline Logan Photography

5- And finally, Location. Lighthouse Sound is just 10 minutes from Ocean City and directly off the Route 90 Bridge. This makes traveling accommodations easy and simple for your guests. With many hotels just minutes away, your wedding guests will be able to turn their travels into a long weekend and enjoy all of what Ocean City has to offer.
Photography by: Caroline Logan Photography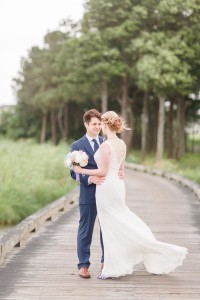 It is never too early to begin planning your Wedding! Contact our Events Coordinator for more information at mcandolfi@lighthousesound.com or 410.641.1199.
We look forward to hearing from you!